BBQ Catering in London: Crowd-Pleasing Ideas for Summer
by
Ricci Martin
in Blog
13th July 2020
Host the best London BBQ party EVER
Sunshine plus hungry guests? It's time to get your grill on!
Whether you're throwing a wedding party or hosting an outdoor corporate event, conversation flows better under the sun. Treat friends and colleagues to a fun, informal atmosphere and delicious barbecue food. Berkeley Catering can help you with BBQ catering from start to finish, so you can relax and focus on enjoying yourself.
We've been delivering top-quality city events for over 20 years – so you could say we're the party experts! Read our ideas below to make your BBQ the hottest in London.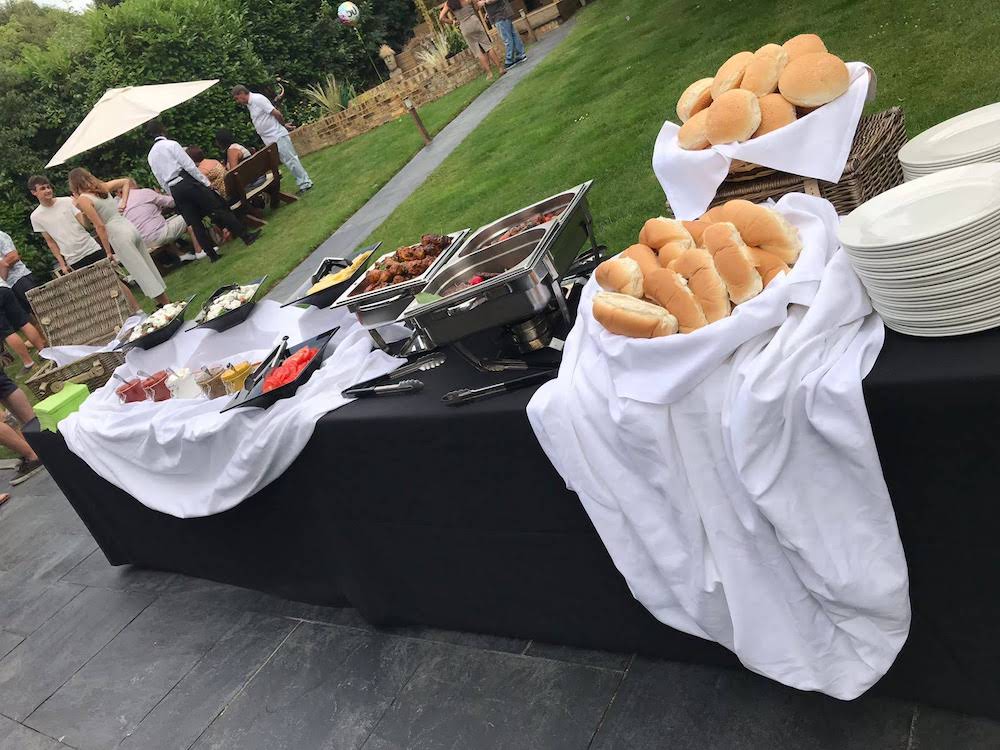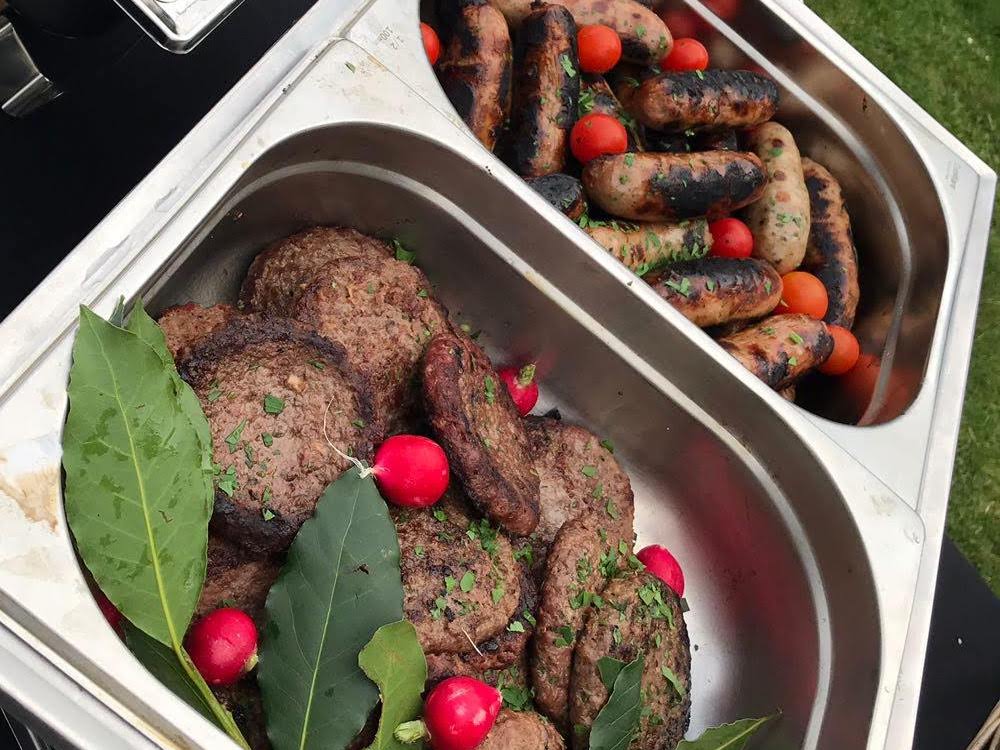 Delicious summer BBQ recipe ideas
The beauty of a great BBQ, apart from escaping outdoors, is giving your guests plenty of choice. You don't even need to serve burgers and sausages (although they're lovely too). Why not impress your VIPs with grilled steak, sea bream, or halloumi kebabs?
Berkeley Catering offer a selection of set BBQ catering menus, so you can pick from classic BBQ fayre or flavoursome favourites. Meat-lovers can fill up on juicy 100% Angus beef burgers and grilled Cumberland sausages. Or tickle your guests' taste buds with honey, lemon and thyme marinated chicken skewers or homemade Mediterranean lamb kofta.
If you have future in-laws or important clients to impress, turn up the heat with spicy piri piri deboned chicken, grilled steak in béarnaise sauce sandwiches, or sea bream cooked en-papillote with lemon, garlic and fresh herbs. BBQ food has never looked better.
Vegetarians will have a field day too – we've cooked up plenty of exciting vegetarian BBQ ideas. Menu choices include wholesome veggie burgers, fresh Mexican corn on the cob with chili and lemon, or Chimichurri vegetable and halloumi kebabs. Guests won't go hungry with a choice of sesame seed buns, brioche buns or soft hotdog rolls.
We'll even provide a selection of tasty sauces and relishes, so you don't have to rummage through your kitchen cupboards. Still have room for our scrumptious summer sides?
Best BBQ side dishes for a crowd
Berkeley Catering know it's the little things that count, so our summer BBQ menus include a range of refreshing side dishes. Cleanse your palate with seasonal tossed summer salad, chunky coleslaw, or a classic mixed leaf salad. Whoever said BBQs couldn't be healthy.
Fancy something a little more European? We've got you covered.
Fill up on pickled beetroot and feta cheese salad with kalamata olives, or couscous with slow-roasted tomato and Mediterranean vegetables. Relax and think of Italy with romaine heart lettuce, croutons and parmesan, with a drizzle of Caesar dressing.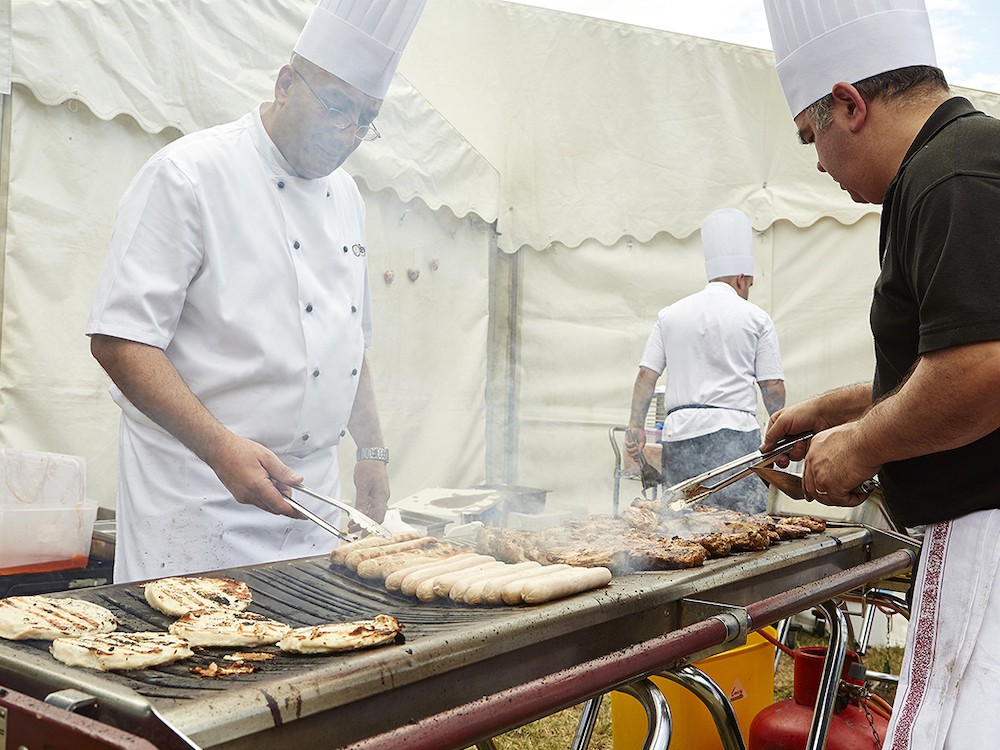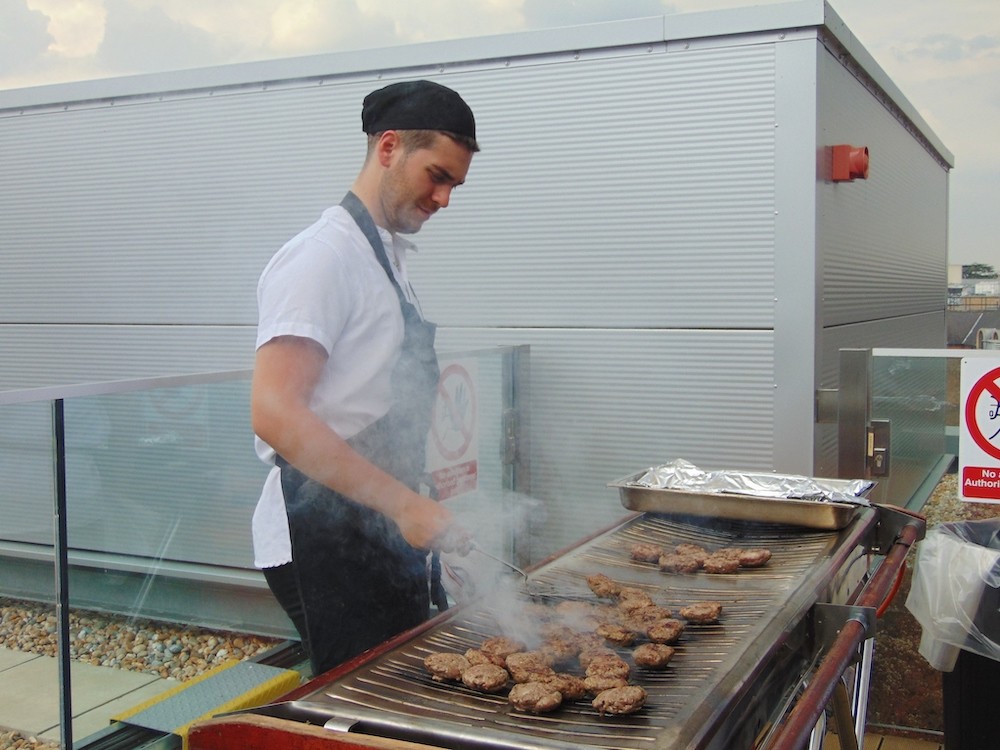 Sweet-tooth satisfying desserts
It is a well-known fact that everyone has an extra space especially for pudding. Don't leave your guests' sweet stomach rumbling – add mouth-watering desserts to the table.
Overdone it at the barbecue grill? A light option like seasonal fruit salad with whipped cream, or mango pannacotta with meringue, will go down a storm. Our caramelised lemon and passion fruit tartlets with crème fraiche are a luxuriously rich treat. Chocoholics have a choice of chocolate mousse with Chantilly cream, or squidgy chocolate brownie.
Drink and be merry
Barbecue food works up a thirst, especially when the sun's out. Keep your friends and colleagues happy and hydrated with a selection of cooling beverages from our drinks menu. 
Berkeley Catering deliver a wide range of both soft or alcoholic beverages. Freshly squeezed orange or apple juice is perfect for summer, or add a sophisticated touch with elderflower cordial. We can also provide tea and coffee flasks for any cloudy moments.
If you're celebrating a birthday or wedding, why not order from our beer and wine list?
From Peroni to Prosecco, your guests are sure to get into the festival spirit. We'll deliver your bottles cold and hassle-free. You can even call us for a wine recommendation to go with your menu choices, or hire equipment from us such as disposable cups or champagne flutes.
Find a memorable outdoor venue
You might already have the perfect outdoor venue in mind for your BBQ – it could be your back garden, a local country house or green space, or even the top floor of a city skyscraper. Berkeley have a few favourite London venues which we think work brilliantly.  
LSO St Luke's is an atmospheric venue, dripping with history and synonymous with the London Symphony Orchestra. Its churchyard is perfect for private parties or corporate events. Alternatively, the Garden at Stationers' Hall is a hidden gem in the heart of London – the paved and landscaped garden makes a stunning backdrop for wedding photographs.
Want something a little more quirky? How about the riverside Westminster Boating Base; you can't get much closer to the Thames and the views are spectacular. If you're unsure about whether a BBQ will work at your dream venue, give us a call to discuss.
Psst – If you do have your heart set on somewhere, but they don't allow barbecues, don't despair. Berkeley Catering can bring every kind of food to you via our innovative Berkeley Delivered service. From hot buffet catering or trendy bowl food, to colourful platters of canapés or sandwiches, you can trust our dishes to be tasty and beautifully presented.
Hire Berkeley Catering for your next big BBQ
So let's plan your best BBQ ever. First, take a look at our choice of barbecue food menus to get an idea of what items you would like us to serve. You should also have a think about whether you require any extra drinks or equipment hire. And don't forget dessert!
Our professional waiting staff and chefs can take care of all the catering duties, leaving you to enjoy the sunshine. Spending time with guests is just as important as feeding them.
Remember, 48 hours' notice is needed to confirm your BBQ booking with us.
Simply call us on 020 3820 1646 or email us on events@berkeleycatering.co.uk – we'd be delighted to help with your outdoor event. We'll be back in touch soon with an answer.
Allergen & Special Dietary Requirements: Please contact us to discuss your needs.