Lavazza coffees new head office opening
by
Ricci Martin
in Blog
13th July 2020
Our caterers in London pulled out all the stops for Lavazza coffee's new head office
Charter Building Uxbridge – Wednesday 4th July
We were delighted to be asked to supply the catering for the opening of the new Head Office for Lavazza coffee in the UK. Our brief was to make it classy and elegant. Events Director, Mark and Head Chef Ronan took up this challenge and with this being for a premium coffee brand decided to give the menu a bit of an Italian theme to it.
Guests were treated to an array of Mediterranean inspired chilled canapés platters, such as Carpaccio of beef with pickled girolles and truffle emulsion, Peperonata with crisp crostini, tomato cone filled with gorgonzola and poached pear with matured balsamic vinegar and a king prawn coated in gremolata. Washed down with Prosecco, Pinot Grigio and Chianti all served in the souring atrium to well over one hundred guests. As the waiting team circulated with canapés, bar staff were busy topping up glasses. Luckily there were magnum bottles of Prosecco to help them.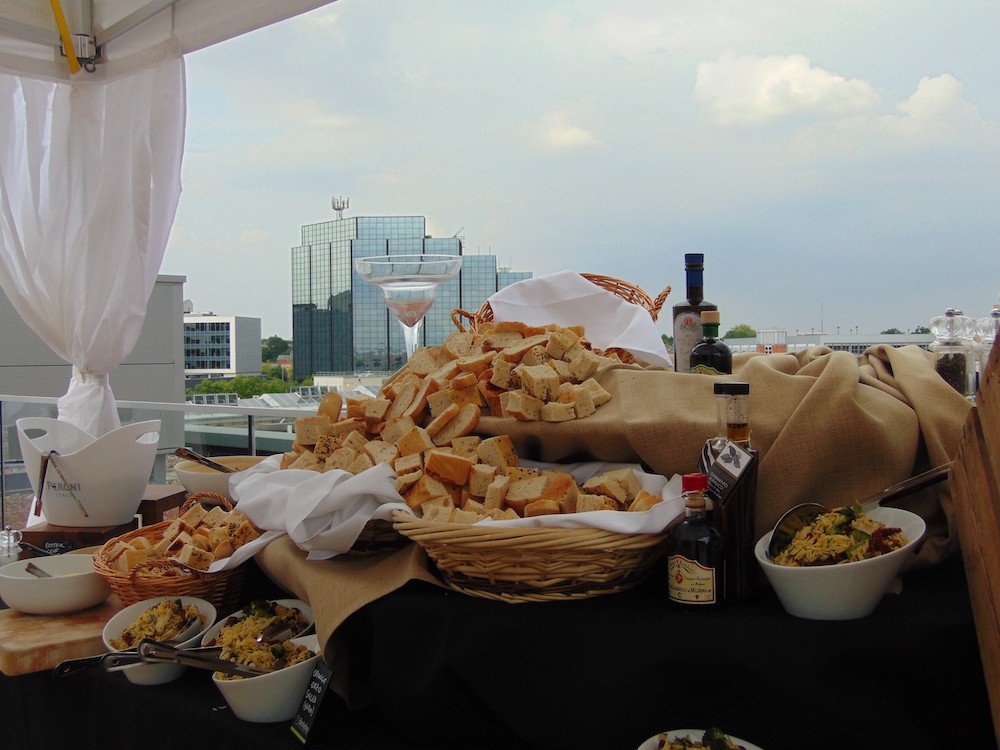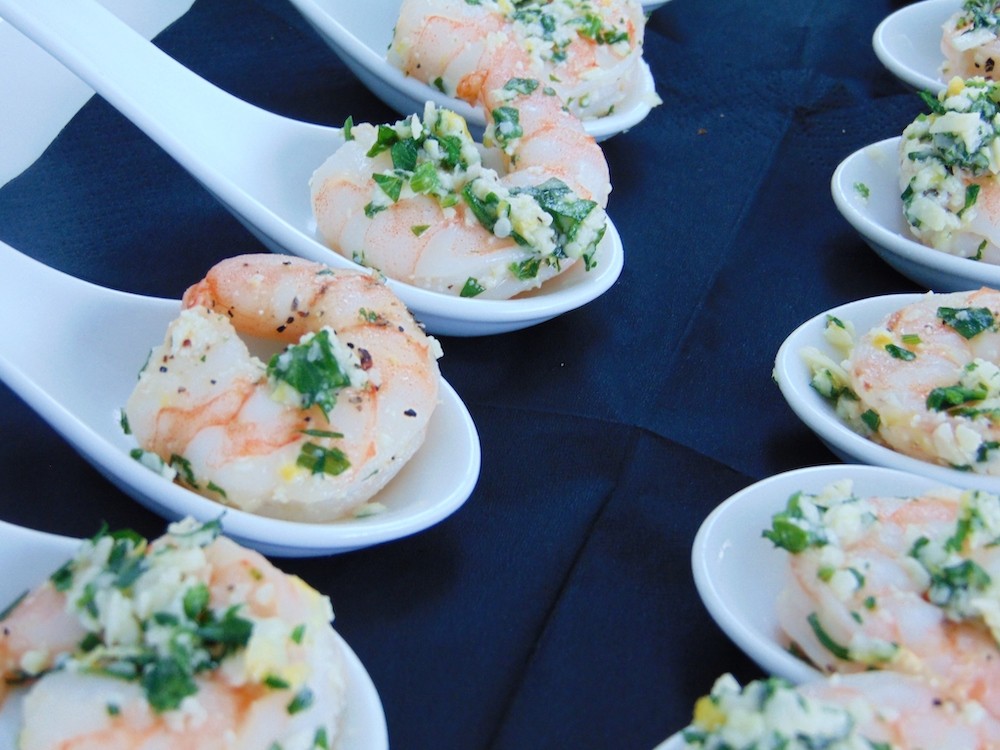 Guests later moved up to the 5th Floor where out on the open terraces they were being wined and dined under several marquees with:
A cocktail bar
serving two special cocktails designed for the evening. A Salted Fennel Martini made with vodka along with a fennel syrup and a Strawberry Torino which had Martini Rubino mixed with Gin, strawberry puree and balsamic vinegar topped with tonic water.
A drinks bar 
that was serving more of the wine from Tuscany, along with ice cold Peroni, just the thing for a warm evening and as the evening went on frozen shots of Limoncello.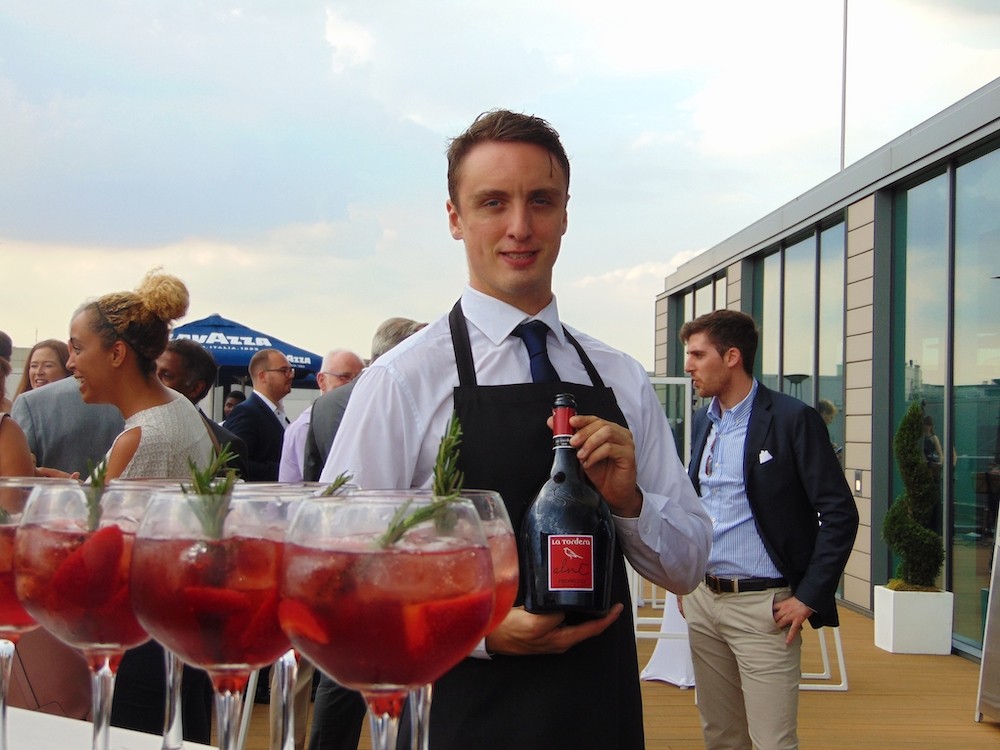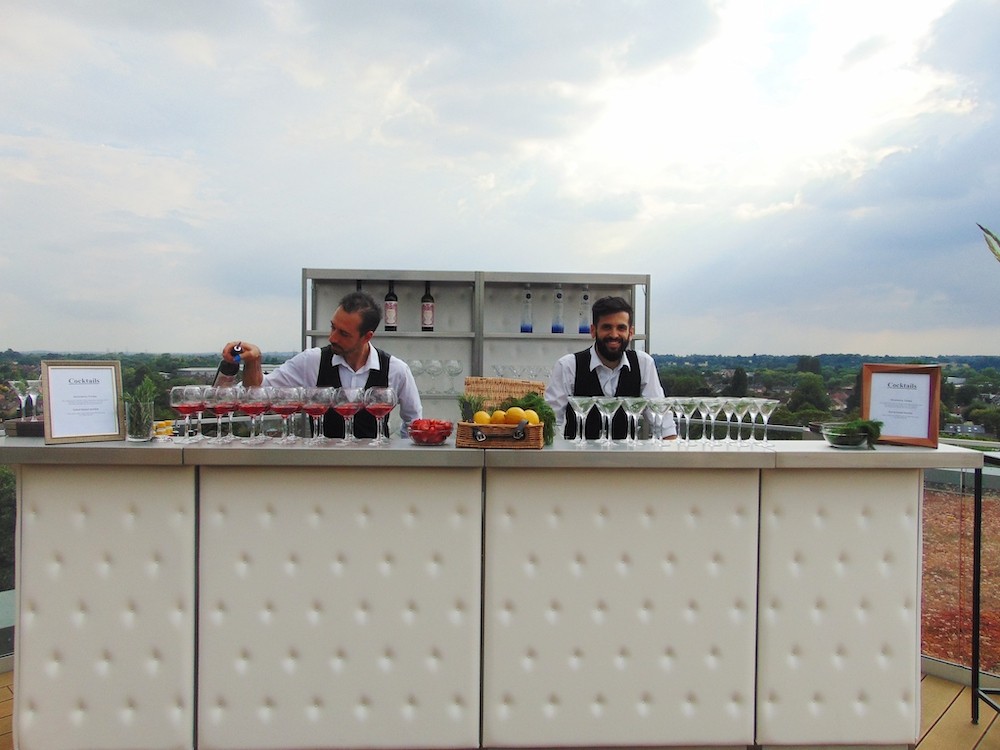 BBQ catering 
in full swing cooking up a relative feast that included handmade Pork and beef slider topped with Mozzarella and pesto, Char-grilled vegetables drizzled with rosemary infused olive oil, Italian sausages that had been butterflied open and filled with a smoked Povalone cheese as well as prawn, salmon and calamari kebabs. There was a large buffet packed with salads, breads, olive oils and a variety of vinegars and those guests that had kept room for dessert were served mini pots of summer berry Panna Cotta and espresso cups filled with tiramisu from trays filled with coffee beans, whilst on the buffet, they could find platters of, fresh fruit, a decadent rich chocolate torte, plus freshly whipped pistachio cream, biscotti, panetone slices and poached plums.
…and a string quartet 
kept everyone entertained playing a mix classical and easy listening tunes.
All in all it was a great night!
Our caterers in London specialise in providing impressive office catering and superb bespoke event catering.
Contact us today on 020 3820 1646 to find out more. You can also email us on info@berkeleycatering.co.uk